Please note: The NMCDHH libraries are available by appointment only.  Please contact us if you are interested in borrowing materials.
NMCDHH maintains an in-house library at its Albuquerque and Las Cruces offices.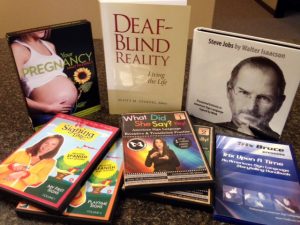 The NMCDHH library is available to New Mexico residents. Members can view a listing of our library materials online which includes books and DVDs for interpreters, students, and people who are interested in learning more about American Sign Language, Deaf Culture, Hearing Loss, and more. We also have books and DVDs for children.
To join, please email your name, address and phone number to nmcdhh.info@cdhh.nm.gov, or trevor.brennan@cdhh.nm.gov. Librarika will send you an email to set up your password. Once you are able to log in, you can view our entire catalog, search for a particular item, view new items and/or reserve items to be picked up later. You can even leave reviews for items in our catalog. Up to three items may be borrowed for four weeks.
You can pick up your reserved items at our Albuquerque office, at 505 Marquette Ave. NW, Suite 1550, in the PNC Bank Building. There is free parking on the north side of the building off 6th or Roma NW.  If you reserved your items from the Las Cruces office, the address is 2407 West Picacho, Suite A-100.  If you reside outside of Albuquerque, but within the state, you can ask to have the media mailed to you; you will only have to pay postage to return the items to us.
Come visit us, online or in person!